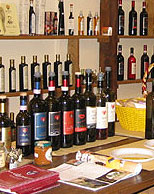 Wine Tasting and Oil Tasting
La Cerretola is an ideal place to spend time discovering the flavour & atmosphere of rural Italy.
Spend time relaxing by the pool, surrounded by beautiful gardens & scenery.
Try archery, bowls, rambling, mountain biking or horse riding.
Or spend time discovering the heritage of local towns & villages, typical of one of the most atmospheric parts of Italy, full of surprises & delights.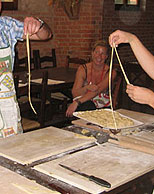 Cooking Courses
In our restaurant, my mother teach you how to make hand made pasta (pici or maccheroni or ravioli or pizza); when we'll have finished to cook also the tomato souce or pesto or ragù we'll sit down to table all togeter. We will enjoy eating the dishes made by our hands and drinking our wine.