Agriturismo La Cerretola
Voc. Cerreto, 55 - 06060 Ponticelli
Città della Pieve (PG)
Tel./Fax +39.0578.248108
Cell. +39.339.6034177
info@lacerretola.it
P.IVA 02540530546
Typical Umbrian and Tuscan cuisine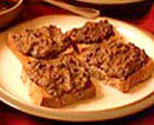 Crostini with spleen
Appetizer prepared with bovine spleen, onion, white wine, anchovies, capers, salt and pepper, smeared on slices of home toasted bread.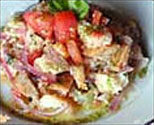 Panzanella
Soup prepared with broth of boiling chicken and eggs beaten mixed with parmigiano cheese, few walnut-tree, salt, pepper.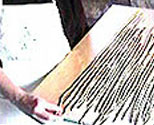 Pici
Pasta prepared simply with water, flour and few salt, mixed rather hard and pulled by hand up to form rough twines.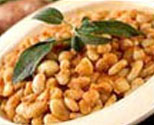 Fagioli all'uccelletto
Beans cooked with sage, garlic, oil and tomato. Typical contour, enriched often with sausages so that it can be considered unique dish.